After tallying more than 5 MILLION votes from our dedicated fragrance followers, we've selected 20 of our most popular "retired" scents to bring back as Scentsy Bars in July 2013. You have one month to stock up on all the scents you've been missing — these fragrances are available as Scentsy Bring Back My Bar during July 2013 only.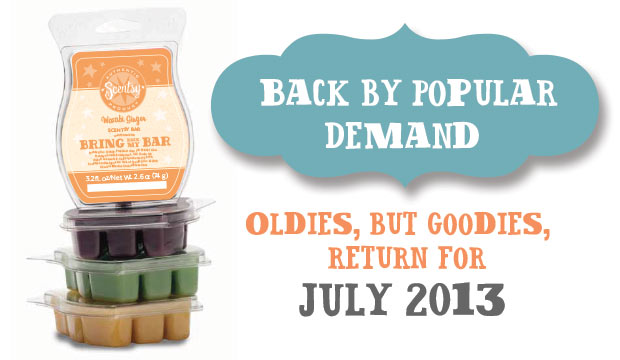 ***All Scents will be available to purchase July 1st 2013

They are $5 EACH or SAVE with Scentsy Combine and Save Packages!
Scentsy Bring Back My Bar Winners
African Mahogany
A crisp fragrance combining precious
woods with musk and amber.
SCENTSY MAN
Awapuhi Seaberry
Fresh Hawaiian white ginger blossom
infused with fresh seaberry.
SPRING/SUMMER
Berry Tart
A medley of sweet berries nestled in
buttery pastry, topped with caramel.
CORNER CAFÉ
Breathless
Floral bouquet of lilac, jasmine, and
musk, kissed by sandalwood.
FALL & WINTER
Cedar Sandalwood & Lime
Vibrant fusion of lime, cedar, and sandalwood.
NATURALS
Flirtatious
Fruity and vibrant, a combination of
green apple, grapefruit, and white
amber.
ROMANCE
French Kiss
Sweet fig tenderly caressed by coconut
pulp, exotic cedar and caramel.
ROMANCE
Grandma's Kitchen
Nuts, raisins, butter, and spice always
make Grandma's kitchen smell nice.
BAKERY
Grapefruit Pomegranate
Fresh, zesty grapefruit blended with
sweet pomegranate in this lively,
summer fragrance.
FRUITS & FLOWERS
Green Tea Smoothie
Energizing green tea and fresh ginger
with peach, nectarine, and cranberry.
CORNER CAFÉ
Hawaiian Paradise
Buffet of Hawaiian fruits: pineapple,
banana, mango, papaya, and coconut.
SPRING & SUMMER
Key Lime Pie
The mouthwatering blend of coconut
and lime.
SPRING & SUMMER
Lavender Vanilla
Relaxing mix of hillside lavender, vanilla
beans, orange zest, and patchouli.
SPRING & SUMMER
My Wish
A confection of earthy fig, sweet violet,
and playful marshmallow will have you
wishing for more.
ROMANCE
Oatmeal Cookie
Savory cinnamon, oatmeal, and warm
sugar.
BAKERY
Oats & Honey
A buttery mix of toasted oats and tupelo
honey, oven-crisped with vanilla and
maple.
CORNER CAFÉ
Peligro
Ebony wood, blue cypress, musk, and
white pepper: subtle, seductive, and
dangerous.
SCENTSY MAN
Plumeria
Hawaiian plumeria and night-scented
jasmine mingled with succulent pear.
TROPICAL
Spring Clean
Refreshing spring air and morning dew
blended with orange blossom and crisp
white florals.
SCENT OF THE MONTH
Wasabi Ginger
Spicy notes of wasabi blended in perfect
harmony with fresh ginger.
NATURALS


Your #1 source for the latest Scentsy news and reviews. Shop for our latest products and have them delivered right to your door. Scent Delivered!
⭐ BUY ⭐ HOST ⭐ JOIN OUR TEAM ⭐ FUNDRAISERS ⭐


Latest posts by Barbara Volkema (see all)