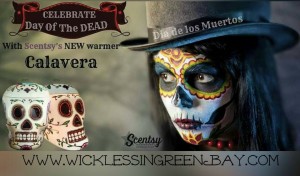 Our Calavera Sugar Skull warmer is perfect way to celebrate the "Day of the Dead" as it's very similar to other "Sugar Skull" designs.  Its design is a one-of-a-kind beauty!  Let it nourish your creativity.
Expand your decorating possibilities with Scentsy, the Calavera Sugar Skull warmer an exciting addition to your collection. A beautiful representation of Mexican folk art, honor a loved one who has passed on with this colorful and hopeful Day of the Dead skull and celebrate your memories.

Available on September 1, 2015
6″ tall – 20w – Glows when lit –  $45
---
Calavera – Sugar Skull – Scensty®
Celebrate El Día de Los Muertos, the Day of the Dead, with the fanciful Calavera warmer from Scentsy. Designed to replicate the sugar or clay masks created for this Mexican holiday, this warmer presents a beautifully decorated skull, flowers and garlands commemorating the life of a dear departed loved one. Take the time to reimagine the fall holidays with this intricately painted warmer, enchantingly different and sure to capture the hearts of your family and friends while it warms your favorite scent.
Keeping with the true spirit of Day of the Dead, sugar skulls are not creepy or morbid. Instead, they are happy & vibrant that are often smiling or laughing. The bright colors and sparkly decorations on the sugar skulls are cheerful enough to clear away any fear or concern about what they stand for.
---
I am always available to chat on Facebook!  I would love to chat with you, send me a friend request at https://www.facebook.com/barbara.volkema and I'll respond right away.
---
Thank You  for Your Love & Support. My Home-Based Business is a Success because of YOU!!!
Barbara & Family XOXO



Your #1 source for the latest Scentsy news and reviews. Shop for our latest products and have them delivered right to your door. Scent Delivered!
⭐ BUY ⭐ HOST ⭐ JOIN OUR TEAM ⭐ FUNDRAISERS ⭐


Latest posts by Barbara Volkema (see all)