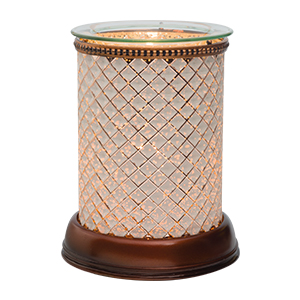 Glistening diamonds will be your new best friend with our exquisite Cream Diamond Lampshade warmer. Beautiful bronzed metal base and rim with detailed trim top and a dreamy glass shade, casting lovely, speckled patterns of light in classic cream.

Showcase this beautiful warmer or move it into a quiet corner where it will do its melting magic, either way the Cream Diamond Shade is your secret weapon. Beautiful as home decor and matchless at spreading a compelling scent, this warmer is at home in your guest room, powder room or center stage in your living areas.
---
I am always online and available to chat on Facebook! Send me a message if you have any questions!!!

---
I am also just a call/text away at {920} 360.4062 or Click Here to Contact me

Your #1 source for the latest Scentsy news and reviews. Shop for our latest products and have them delivered right to your door. Scent Delivered!
⭐ BUY ⭐ HOST ⭐ JOIN OUR TEAM ⭐ FUNDRAISERS ⭐


Latest posts by Barbara Volkema (see all)