Scentsy® Custom Gifts – perfect for weddings, schools, corporate gifts, fundraisers and more!
Have you been looking for that perfect corporate gift, school fundraising opportunity, wedding table centerpiece/gift, family reunion memento, or customer appreciation gift? We have created perfect solution for you – Scentsy® Custom Gifts!

Custom Gifts That Last
Scentsy® Custom Gifts provide a personal touch and lasting impact for your customers, employees, family members, or others who make a difference in your life. Having custom gifts for employees could be a good way for employers to show appreciation for everything the employee has down for the company.
When you give a Scentsy Custom Gifts Warmer you're showing you care enough to present a gift that's custom-made and adds lasting value to any home or office. Your custom image is produced on a magnetic glass plate that attaches easily to the sleek warmer, where a light bulb inside lights up the image. It works in a similar way to how custom bobbleheads are made in some ways, so I hear.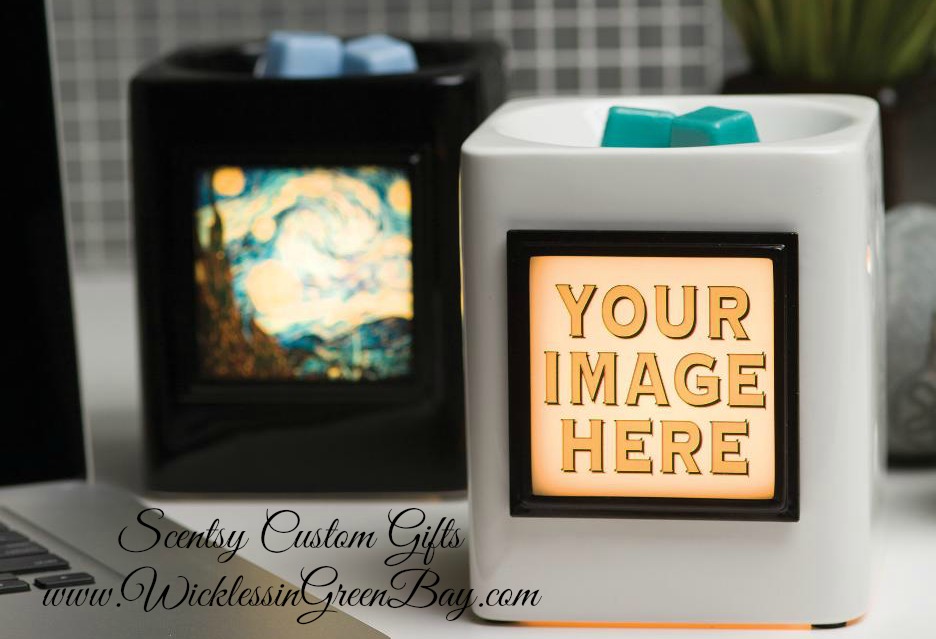 About Our Custom Gifts
Your custom logo is produced on a magnetic glass plate that easily attaches to our Scentsy Warmer, when turned on a light bulb inside lights up your image. Scentsy also offers pre-made art frames as an alternative. Of course Our Scentsy Warmers would not be complete without one of our memorable Scentsy Fragrances. Each Scentsy Custom Gift Bundle comes with a choice of one of three Scentsy Bars: Thank You, Enjoy, or Happy Holidays. You will also receive a Free gift bag and bow with each custom gift warmer, magnetic frame and bar, so you can deliver a beautifully packaged gift.
If you'd like to keep looking around at personalized items for a gift, these chaussettes visage can be an out of the ordinary idea but one to bring a smile to their face every time they put their socks on in the morning.

Scentsy® Custom Gifts For Businesses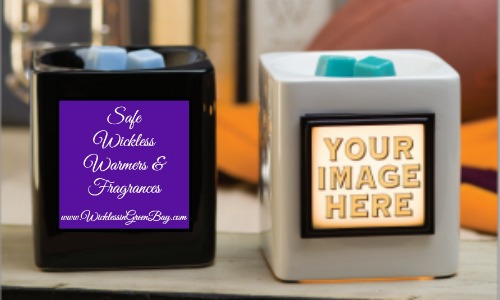 Scentsy® Custom Gifts are fun and innovative gifts to show your appreciation to your customers and employees for their contributions to your company or to celebrate company milestones and anniversaries. They will receive a gift that they can use and enjoy while displaying your logo proudly in their home or office. They will thank you, I promise! Personalized gifts really make it special between you and the other person/s. Don't just stop at one personalized item, look and see what else you can make unique, such as a custom photo bag, they can use it everyday with you're very own personalized look.

Scentsy® Custom Gifts For Families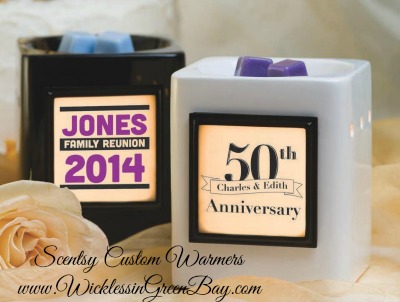 There is no better gift for a friend or family member than the gift of memories. Scentsy® Custom Gifts are easy to create a one-of-a-kind gift that showcases a meaningful saying, photo or date. These gifts are perfect for family reunions, weddings or holidays.

Scentsy® Custom Gifts For Fundraiser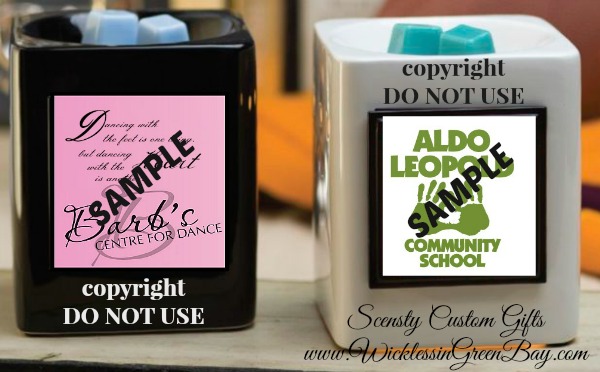 Why bother with the traditional fundraising items, like cookie dough and candy bars, when you can offer your friends and family something they can use for a lifetime and display proudly in their home? Scentsy® Custom Gifts gives you an easy way to create a fundraiser tailored to your organization's needs. Add a school mascot, symbol or logo to your Scentsy Custom Warmer Frame and you have the perfect way to raise money and build relationships!

Order Your Scentsy® Custom Gifts Today
When you're ready to order, get in touch with me or just follow the steps below.
Go to my website:https://wicklessingreenbay.scentsy.us/Scentsy/CustomGifts/Info
You'll be guided through a few simple steps:
STEP 1: Select your products.
STEP 2: Create your account.
STEP 3: Upload your custom image* or choose from one of three art frames.
STEP 4: Provide your payment information.
STEP 5: Approve final frame art** and complete your order.***
Don't have artwork? Not a problem. You can choose one of three beautifully crafted art frames. Each frame features a Vincent van Gogh painting that will add color to any room or office.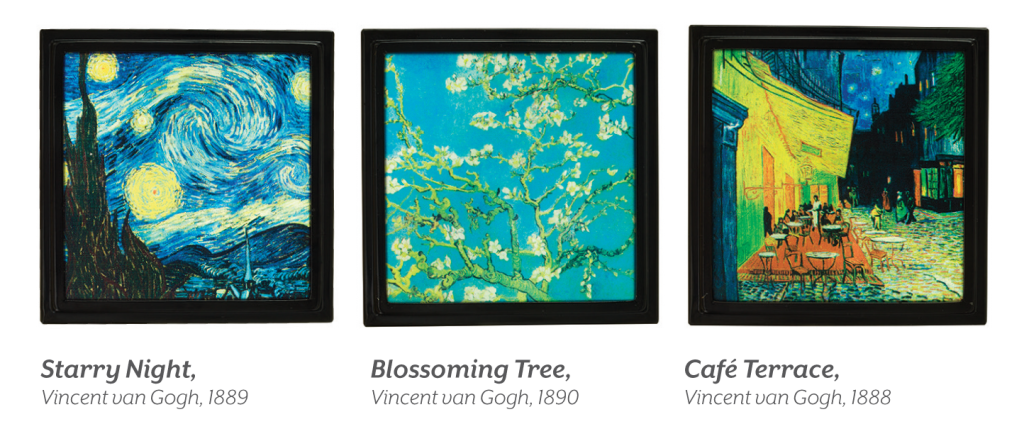 *Must be an Adobe Illustrator .ai file, with Pantone colors identified.
**If you order a custom frame, you'll receive an email containing a final frame art proof. Simply click the button in the email to approve the art and complete the order.
***Please note: if you have a custom frame art produced and don't approve and complete the order, you will be charged a $100 (USD)/$120 (CAD) fee.
Frequently Asked Questions
What type of file does my custom image need to be?
An Adobe Illustrator .ai file. An .ai file is a scalable, digital format created in Adobe Illustrator software. It can be enlarged or reduced without losing quality or impacting design.
Don't have your art or logo in an .ai format?
I can convert your file to an .ai file, please contact me for assistance!
What are Pantone colors?
Pantone is a popular color matching system used by the printing industry to print colors accurately on any equipment. Each color has a unique number.
Can I buy just custom frames?
No. To simplify ordering, Scentsy Custom Gifts are only available in bundles that include warmers, frames, bars, bags, and bows.
Why can I only increase quantities in increments of 12?
Order quantities start with a minimum of 24 and may be increased in multiples of 12 to speed production and delivery of Scentsy Custom Gifts.

Order Screen
Ordering is easy; just select your warmer, frame type, bar, and quantity.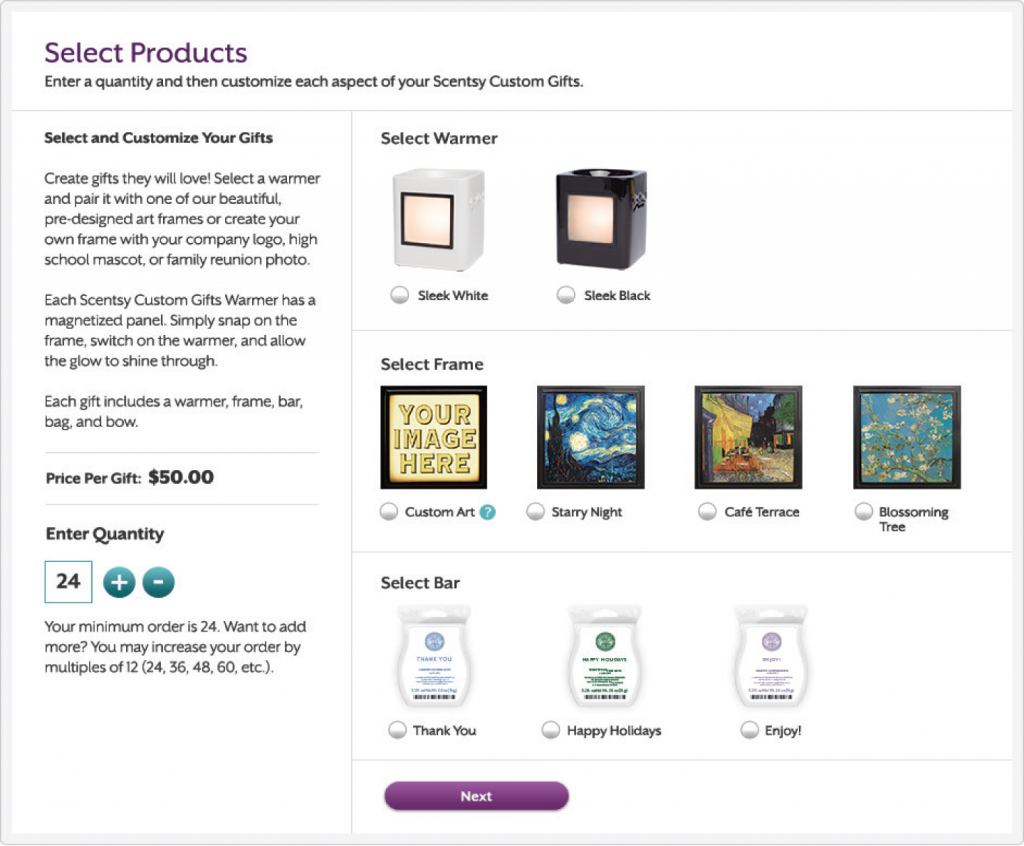 Scentsy® Custom Gifts Bundle $50 (USD)/$60 (CAD)
Custom Gifts Warmer in Sleek Black or Sleek White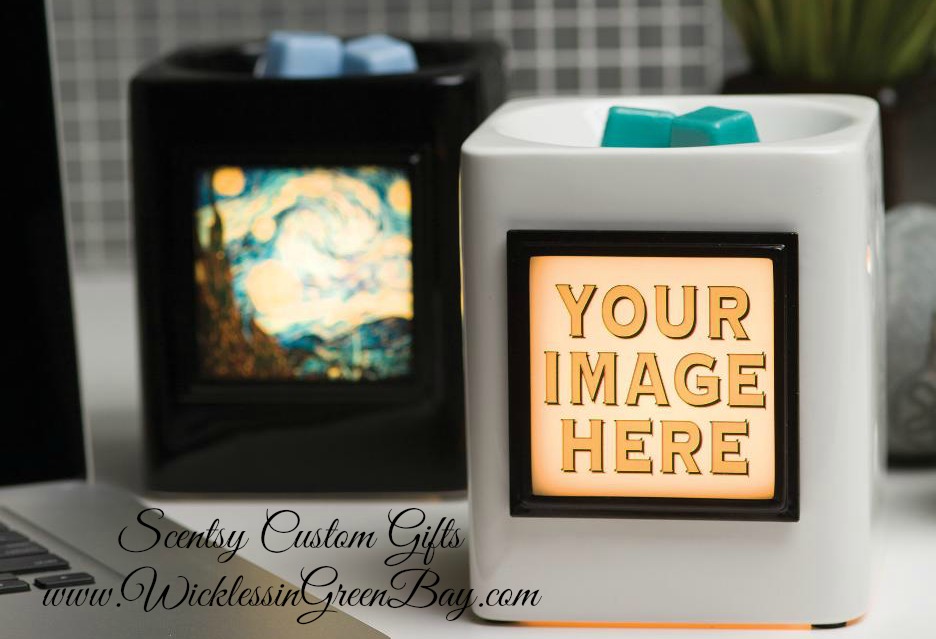 1 Custom Gifts Frame or art frame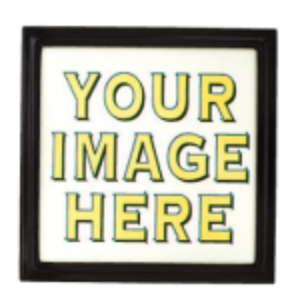 1 Scentsy Bar created exclusively for Custom Gifts. Choose from: Thank You, Enjoy!, or Happy Holidays.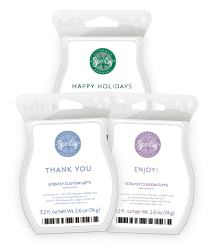 1 Clear Gift Bag and Bow with wrapping instructions.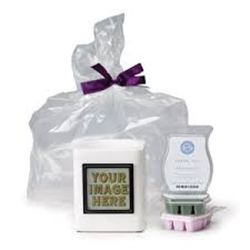 Please contact me if you have any further questions.
I can be reached @ WicklessinGreenBay@gmail.com

920.360.4062 or 920.435.5550

Latest posts by Barbara Volkema
(see all)