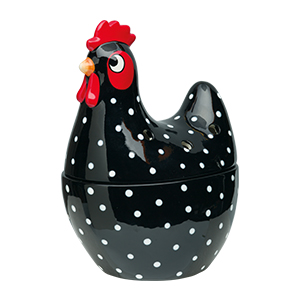 Cock-a-doodle-doo!
Our New Hokey Pokey warmer will feel is right at home in a country kitchen or anywhere you need farm-fresh charm.
7.5″ tall – Hand-Painted – $35

---
Hokey Pokey Warmer – Scentsy
Hokey Pokey reminds us to try a little whimsy to keep things fresh. This hand-painted fellow is striking, in glossy black with straggling snowy-white polka dots, a scarlet comb and wattle begging for the attention only a star performer like this rooster deserves. Add your favorite fragrance bar and you might just hear him crow with approval.
---
I am always available to chat on Facebook!  I would love to chat with you, send me a friend request at https://www.facebook.com/barbara.volkema and I'll respond right away.
---
Thank You  for Your Love & Support. My Home-Based Business is a Success because of YOU!!!
Barbara & Family XOXO


Latest posts by Barbara Volkema
(see all)