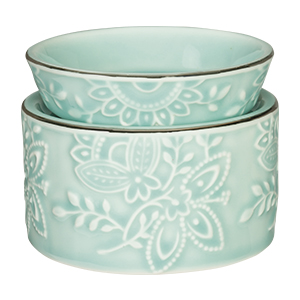 Our Isabella Element* Warmer is a beautiful and delicate warmer, lacy looking and very feminine. Save its exquisite beauty for yourself and enjoy this compact warmer in the master suite, or share its rare textures and barely there blue hue by decorating the powder room,  welcoming a guest room or for freshening the air near a newborn's crib. A simple round cylinder of swirling baby blue and frosty white reactive glaze, it is topped with a circular dish to melt our Scent bars, straightforward yet dainty.
Isabella Element Warmer – Available today from Scentsy for $30.00.

*Our Element Warmers use a heating element to safely warm our fragrance wax without illumination. Just right for offices, dorms, and bedrooms.
---
I am always online and available to chat on Facebook! Send me a message if you have any questions!!!

---
I am also just a call/text away at {920} 360.4062 or Click Here to Contact me

Your #1 source for the latest Scentsy news and reviews. Shop for our latest products and have them delivered right to your door. Scent Delivered!
⭐ BUY ⭐ HOST ⭐ JOIN OUR TEAM ⭐ FUNDRAISERS ⭐


Latest posts by Barbara Volkema (see all)