Celebrate your M❤M this Mother's Day — or just because!
Fresh flowers from the garden. A day at the spa. A decadent dessert. Give your mom, or any special person in your life, fragrances to remind her of all three — plus a versatile, classic Lampshade Collection Warmer — this Mother's Day!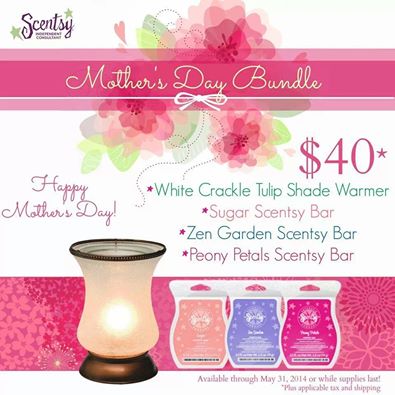 The limited-time Mother's Day Bundle includes:
1 White Crackle Tulip Shade Warmer
3 Scentsy Bars:
1 Peony Petals Scentsy Bar
1 Sugar Scentsy Bar
1 Zen Garden Scentsy Bar

The Mother's Day Bundle is just $40 from April 15 to May 30, 2014, or while supplies last. And it can be purchased using Host Rewards, including Half-Price Host Rewards and Host Credit, offering an even deeper discount!

Your #1 source for the latest Scentsy news and reviews. Shop for our latest products and have them delivered right to your door. Scent Delivered!
⭐ BUY ⭐ HOST ⭐ JOIN OUR TEAM ⭐ FUNDRAISERS ⭐


Latest posts by Barbara Volkema (see all)