Bubblegum Scentsy Bar
Available for a limited-time Only!!!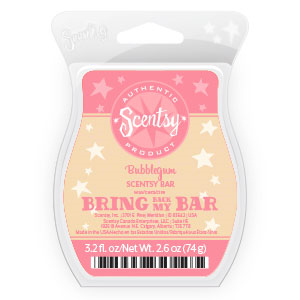 The true scent of baseball-card bubblegum- sugar and cotton candy with a hint of mint. If you don't remember baseball card bubblegum ask your husband or son. Those hard sticks of pink gum sandwiched between Topps baseball cards were always a treat. Even the baseball cards smelled like the gum for a while. This Scentsy bar smells good enough to chew!
Individual Scentsy Bars are $5 (USD)/$6 (CAD). Or grab a few of your favs and save!
• 3 Scentsy Bars: $14 {USD}/$17 {CAD} – $1.00 Savings
• 6 Scentsy Bars: $25 {USD}/$30 {CAD} Buy 5 – Get 1 FREE


Your #1 source for the latest Scentsy news and reviews. Shop for our latest products and have them delivered right to your door. Scent Delivered!
⭐ BUY ⭐ HOST ⭐ JOIN OUR TEAM ⭐ FUNDRAISERS ⭐


Latest posts by Barbara Volkema (see all)