Scentsy Charitable Warmer ✿ Forget-Me-Not ✿ Spring/Summer 2013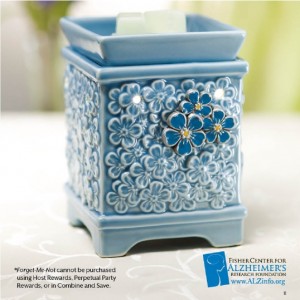 Alzheimer's is an especially cruel disease. It robs us of the very essence of who we are; our memories. Currently, one in eight older American's have Alzheimers, affectiing 54% of families. It is estimated that by mid-century, 16 million American's will suffer from this disease if a cure is not found.
That's where Scentsy and Fisher Center for Alzheimer's Research Foundation steps in. Your purchase of Forget-Me-Not will help support the research efforts of the Fisher Center to focus on the cause, care, and cure for Alzheimer's disease and educational outreach. Scentsy will donate $8 USD from the sale of each Forget-Me-Not Warmer to the Fisher Center for Alzheimer's Reasearch Foundation.
Twice a year, Scentsy designs and features a special warmer to help raise funds for a specific cause or organization. Money raised through sales of these warmers goes directly to the participating beneficiary.
The Spring/Summer 2013 Charitable warmer "Forget-Me-Not" supporting Alzheimer's Research is Beautiful and  Great for gift giving – Mother's Day, Special Friend or Family Member, Co-Worker. A gift for ayone in your life that you want them to know you will not forget them for who they are or what they have done for you or for someone else. In turn your purchase makes it possible Scenty to Give Back 😉
Scentsy Family 2011 to 2012 — A Year in Review
I am so proud to be part of this wonderful company! They have inspired thousands of Scentsy Family consultants to give more than they take and help their local charities and organizations, and individuals. It is still a great time to join the Scentsy Family with three brands to choose from! Scentsy Fragrance, Velata, and the new Grace Adele! As an independent Scentsy Family Consultant, you can sell one brand, two, or all three, its up to you!
Scentsy Summer Giving — Spending Spree for Refugees 2012



Latest posts by Barbara Volkema
(see all)