Scentsy Diffuser Sale – February 2017
Between the handcrafted, artisan-inspired design and a dazzling display of color and light, each Scentsy Diffuser is a bona fide objet d' art. However, when you add customizable, fresh-picked fragrance and interchangeable shades, you have a whole new take on home décor! 

February we're including three FREE 100% Natural Oils with every Diffuser purchase from Feb. 1-28, 2017 or while supplies last!*
You'll get to choose three Oils from the following fragrances:
Eucalyptus Lavender Mint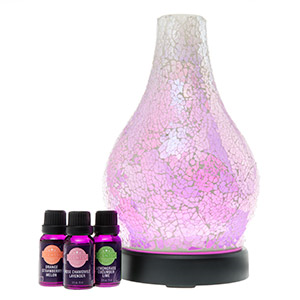 Jasmine White Tea
Lavender Orange Blossom
Lemongrass Cucumber Lime
Orange Strawberry Melon
Pear Lime Spice
Pecan Sugarcane Vanilla
Rose Chamomile Lavender
Vanilla Cinnamon Clove
Vanilla Nutmeg Cardamom

---
But the excitement doesn't end there! Because February is a transition month, our Diffusers will be 10 PERCENT OFF through Feb. 28! So you get free Scentsy Oils and discounted Diffuser pricing.
---
Our Diffuser is the best. Here's why:
Its technology is unmatched. The Scentsy Diffuser features an ultrasonic nebulizing diffuser, a disk that vibrates precisely to break down water and oil into a fine microscopic mist that can be diffused on air.
It's simple to use. It has a large, durable water reservoir for up to 8 hours of continuous (very quiet) use! When it runs out of water, it automatically turns off.
You have total control. High, low and intermittent mist options allow you to precisely control the fragrance intensity of your all-natural Scentsy Oil.
It's fully customizable.

Choose from nine lovely styles (including two kid-friendly designs), then swap out the decorative Shade whenever you want a new look!
16 LED lighting effects add a bit of extra flair to your space — the colors really highlight the unique beauty of each Shade. Choose from white or colored light, then select high, low or candle-flicker features. Cycle through 12 beautiful colors continuously with the push of a button, or select one to feature for the duration of use.
Beauty + Brains
This is the smartest, most stylish diffuser on the market! Bar none. These beauties are handcrafted with dramatic hand-blown glass or intricately stenciled porcelain. Plus, they're designed to last!
Forever, actually. The Scentsy Diffuser comes with a LIFETIME WARRANTY.*
*For Diffuser warranty details, visit scentsy.com/registerproduct.
---
---