Scentsy GO!

 Fragrance in Motion
Journey from the couch to the office to just about anywhere in between (and beyond!) with the our New Portable, Chargeable, Battery Operated Scentsy GO!
Our latest system lets you enjoy fragrance anytime, anywhere. Our portable Scentsy GO! is a fragrance innovation, offering premium scent that's customization and ready to roam. Where will you go first?!
Features and Benefits:
The built in rechargeable battery provides UP TO 40 HOURS of travel-friendly fragrance and charges easily with the includes USB cord.
Instantly fills your space with Scentsy fragrance.
Provides a multi-sensory experience with FRAGRANCE, LIGHT AND STYLE.
Comes with a sleek, decorative band in your choice of roe gold or silver.
LED lighting effects in a spectrum of colors.
Two fan options – normal mode and eco mode – to conserve the battery and fine-tune your fragrance experience.
Limited lifetime warranty.
Mix and match scent pods(uses up to two at once!) for a custom fragrance experience and to control the fragrance intensity.
Scentsy Pods last up to 120 hours. (approximately one to two weeks.)
Cordless designs means you can take it with you anywhere!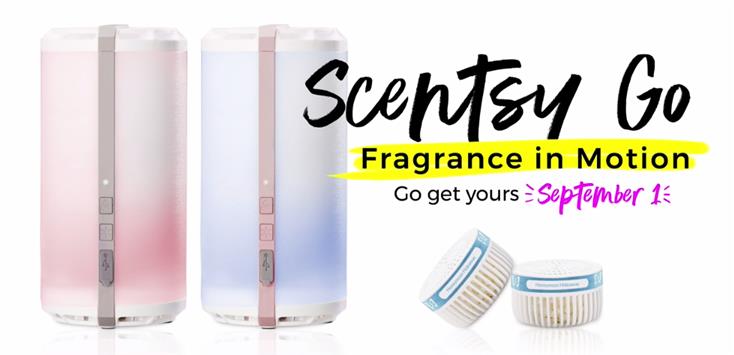 SCENTSY GO! –  $50*
LED 5.5″ tall. Pack of 2 Scentsy Fragance Pods $10.
*Cannot be purchased in Bundle & Save.
---
Scentsy PODS!
Air flows through the Scentsy Pods and into the environment for immediate fragrance. The fragrance beads in the pods release the perfect amount of scent for an incredible experience in your favorite Scentsy fragrances.
Scentsy Pods feature NO-SPILL fragrance beads.
Mix and Match Scentsy Pods for tons of fragrance options.
Pack of 2, $10
Available September 1st, 2017

---
Available in the following Fragrances:
BAKED APPLE PIE: Flaky crust, APPLES and SPICES combined in a strong scent.
BLACK RASPBERRY VANILLA: Delicious, sun-sweetened DARK BERRIES warmed with VANILLA
BLUEBERRY CHEESECAKE: Thick, rich NY CHEESECAKE with a light GRAHAM CRACKER crust and delicious BLUEBERRIES.
CHRISTMAS COTTAGE: A cozy, inviting blend of Valencia ORANGES, RASPBERRIES, CLOVES and SPICES.
CLEAN BREEZE: White FLORALS with a touch of spring; this is the scent of fresh, clean LAUNDRY.
COCONUT LEMONGRASS: Creamy, tropical COCONUT and sunny, bright LEMONGRASS.
ESKIMO KISS: BLACKBERRY JAM, caramelized BROWN SUGAR, VANILLA and AMBER in a softly romantic scent.
HONEYMOON HIDEAWAY: Escape to a secluded retreat of dew-kissed LILY and tart-sweet KIWI, shaded by lush COCONUT PALM.
JAMMY TIME: Drift into dreamland with BABY FREESIA, LAVENDER and SWEET PEA.
LUNA: White florals — JASMINE, SWEET PEA and freesia — juicy BERRIES and SANDALWOOD shimmer like moonlight.
PINK HAZE: A sweet confection of BERRIES, NECTARINES and vanilla-laced whipped cream nestled in MARSHMALLOW fondant.
PUMPKIN ROLL: Creamy PUMPKIN pie filling surrounded with YELLOW CAKE, PECANS, BUTTER and SPICE.
VANILLA BEAN BUTTERCREAM: Decadent BUTTERCREAM frosting made with the freshest butter whipped with cane sugar and VANILLA extract. So creamy and sweet you will have to lick the spoon!
WEATHERED LEATHER: Step into an old-fashioned saddle shop brimming with DARK SUEDE and tooled LEATHER over a backdrop of OAK.
WELCOME HOME: Warm and welcoming with CINNAMON and SPICES.
---
Sign up for Your Scenty GO! Today!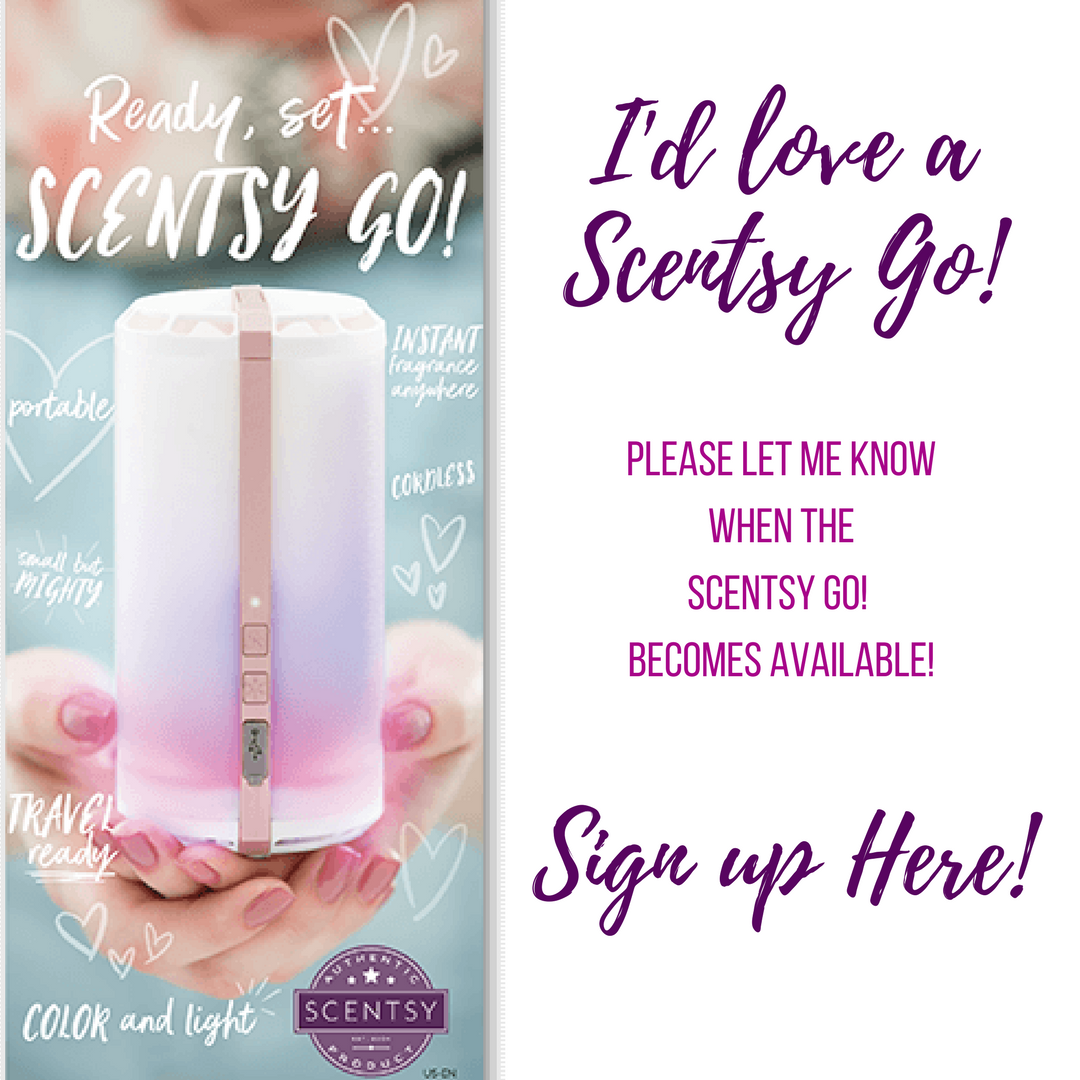 ---
Love It, Want It? Place your Pre-Order Today!
---
---

Latest posts by Barbara Volkema
(see all)