March of Dimes Charitable Cause Scentsy® Buddy:
"Roosevelt the Rabbit"
*Available to Order March 1st, 2014 – Just in time for Easter!!!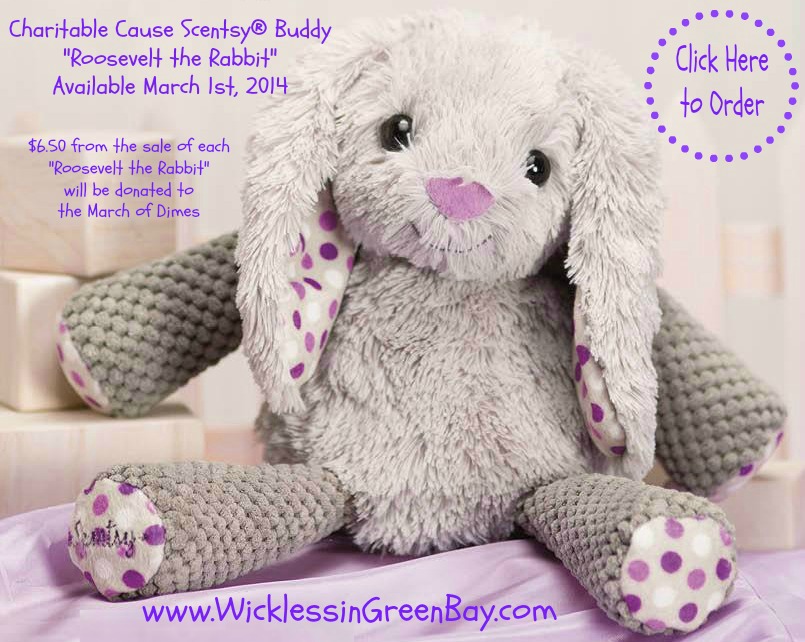 Every baby is born to do something great, something unique and theirs alone. Unfortunaly, not every baby is born healthy. The March of Dimes Foundation helps though, by working to prevent premature births, birth defects, and infant mortality, and bringing comfort to families when they need it the most.
Your purchase of Roosevelt the Rabbit® supports the March of Dimes, destino campaign, allowing it to continue the research and education responsible for more moms having healthy, full-term pregnancies, and allowing all babies the chance to do something great. Scentsy Fragrance will donate $6.50 from the sale of each Roosevelt the Rabbit to the March of Dimes.
$30.00 Each and includes one Scent Pak® (Available in 46 Fragrances)

*Bookmark this page and come back March 1st, 2014 to order your "Roosevelt the Rabbit"


Your #1 source for the latest Scentsy news and reviews. Shop for our latest products and have them delivered right to your door. Scent Delivered!
⭐ BUY ⭐ HOST ⭐ JOIN OUR TEAM ⭐ FUNDRAISERS ⭐


Latest posts by Barbara Volkema (see all)