Loyalty has its Rewards!!!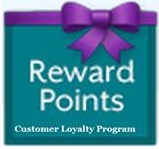 You've asked for it and Scentsy has listened! Starting on September 1st, 2013 – customers will be able to enroll in the Brand New Scentsy Fragrance Customer Loyalty Program that allows YOU to easily set-up a subscription safely on my website for your favorite consumable Scentsy Fragrance products AND you will earn customer rewards points on your subscription purchases! Giving you the best subscription management for your products is important for us to uphold.
Want to know more? Here are some answers to most Frequently Asked Questions!
What are considered "consumable" products?
These are products that are used and need replaced in a relatively short amount of time. The consumable products that will be part of this program are: Scentsy Bars, Scent Circles, Room Sprays, Scent Paks, Travel Tins, Light Bulbs, and all Scentsy Layers products! (Yes, INCLUDING Laundry Liquid, Washer Whiffs, and Dryer Disks!)
What are the benefits of enrolling in the Customer Loyalty Program?
Businesses like to engage with their customers, through providing Customer Touch Points. Loyalty cards are just one way in which we do this! You will enjoy the convenience of always having your favorite Scentsy products on hand. And, you'll also earn rewards points on your purchases. Each dollar you spend equals one "point" – for every 150 points you earn, you will receive credit for one half-price item of your choice! Plus, when you place an order of $50 or more (before tax/shipping) on your Customer Loyalty account, you will earn an additional 10 rewards points!
When do my half-price item credits expire?
Customer half-price item credits never expire and can be redeemed at any time by visiting your Customer Loyalty Subscription page on my website. You may also accumulate as many half-price items as you wish.
How will I be reminded of my subscription?
You will receive an email notification 10 calendar days prior to order processing to remind you of your order. Then, you will receive confirmation when an order is processed. You may also receive other pertinent email communications in regards to your Customer Loyalty Subscription.
How often can I edit the products within my subscriptions?
Subscriptions can be edited at any time. However, any changes to current shipments will need to be made before payment is processed.
What if products go on sale, will I get the better price?
Yes, if a subscription item becomes discontinued, the discount will apply at the time the order is processed; however, promotions that require selection of additional product will not apply.
When are subscriptions shipped?
Shipments may be scheduled at 1-, 2-, or 3-month intervals; the intervals may vary by item. You may also select the day of the month you would like a product shipment to process (excluding the first or last day of the month).
Do products within the same subscription need to be shipped on the same schedule?
No. Each separate product can be set to ship on its own schedule. So, if you need Hand Soap and Shower Gel every month, but only need Body Lotion every other month, you can set each product to ship at different times!
Ready to get started and never have to worry about running out of your favorite Scentsy products again?! Head on over to my website !!!


Latest posts by Barbara Volkema
(see all)