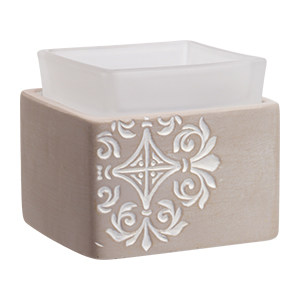 Hand-painted with an intricate geometrically based asymmetrical decoration, the Fitzgerald Element Warmer* has a concrete look square base topped with a opaque glass warmer dish. The design has an Arts and Crafts motif, a retro yet modern feeling with its clean lines and industrial type materials. This warmer will be perfectly positioned to grace almost any room of your home and its neutral palette may be exactly what you are seeking for a warmer at the office.
Fitzgerald Element Warmer – Available today from Scentsy for $30.00.

*Our Element Warmers use a heating element to safely warm our fragrance wax without illumination. Just right for offices, dorms, and bedrooms.
---
I am always online and available to chat on Facebook! Send me a message if you have any questions!!!

---
I am also just a call/text away at {920} 360.4062 or Click Here to Contact me

Latest posts by Barbara Volkema
(see all)