Scentsy Discontinued Scents List 2013
The new Spring Summer 2013 Scentsy Catalog will be launching on March 1, 2013.  To make room for all of the New! Spring/Summer Scentsy fragrances, several fragrances from the Fall/Winter 2012 catalog will be discontinued.  These soon-to-be-discontinued scents will not appear in the New! Spring/Summer 2013 Catalog and will only be available through February 28, 2013.  We don't know when, or if, these scents will be back, so stock up on your favorites while they are still available.  All scent products are 10% off through February 28, 2013, so you can get even more of your favorites at a discount.  Below is the list of discontinued Scentsy scents from the Fall Winter 2012 Scentsy Catalog.
Scentsy Discontinued Scents List 2013
Amalfi Coast – A warm afternoon in a sun-drenched Italian citrus grove: sparkling pomelo, white grapefruit, Capri lime.
Amber Road – Open a box of treasure, hand-picked from exotic lands, to discover glowing red cedar and resinous incense.
Autumn Sunset – Apples, pumpkins, fall leaves, and spices – a top-ten fragrance.
Be Still – Unwind as light mandarin, soft violet petals, and creamy sandal tree envelop your senses and quiet your mind.
Black Ruby – Juicy plum, black cherry, and sparkling persimmon, with untamed vanilla — a luminous, deep fragrance.
Buckleberry – A bite of summer's bounty: bursting fresh berries atop a buttery blanket of crumbly coffeecake.
Central Park Pralines – A decadent confection of rich roasted pecans, buttery caramel, and cinnamon sugar.
Cerise – An embrace of cherry blossom, fresh plum, and soft white blooms warmed by golden vanilla.
Christmas Cottage – A cozy, inviting blend of Valencia oranges, raspberries, cloves, and spices.
Cinnamon Bear – Crisp, spicy cinnamon, reminiscent of Red Hots candy, with a touch of cloves.
Cinnamon Vanilla – Inviting blend of vanilla beans, cinnamon, coconut, and cassia.
Clove & Cinnamon – Classic scent of cinnamon sticks fused with cloves.
Cozy Fireside – Warm spice notes with zesty ginger and cinnamon.
Dominica – Plump purple plums nestled with fresh nutmeg, spicy cinnamon, and undertones of rich oak.
Dulce de Leche – A silky-sweet golden custard of sugary caramel, rich cream, and just a touch of warm vanilla.
Echo – Sophisticated, metropolitan fragrance of manly spice notes, Mediterranean citrus and herbs, and bitter orange.
Enchanted Mist – Romantic blend of juicy apples, enhanced and sweetened by rose petals and rich jasmine.
Eskimo Kiss – Blackberry jam, caramelized brown sugar, vanilla, and amber in a softly romantic scent.
Festival of Trees – Dance in a forest of evergreens as fir needles fall amongst aromatic white cedar and musk, with a wintry whisper of citrus.
Frosted Ginger Cookie – Chewy brown sugar cookie spiked with warming ginger and fragrant vanilla.
Hazelnut Latte – Frothy steamed milk, toasted hazelnuts, espresso, and vanilla with a dusting of cinnamon.
Hemingway – Rich, ripe apples and warm, woody accents of sandalwood and cedar with hints of spice.
Hendrix – Rock and roll with an electrifying blend of earthy patchouli, glowing sandalwood, and bold pink pepper, harmonized with sweet tobacco flower.
Honey Pear Cider – The scent of pure autumn bliss — fresh, juicy pear and sweet honey together with subtle hints of spices.
Iced Pine – As refreshing as a walk through newly fallen snow: green fir and pine, kissed by icy peppermint.
Mediterranean Spa – Relax with this smooth, fresh, and breezy scent.
Midnight Fig – Earthy, ripened figs and golden berries tempered by musky woods will open your eyes and captivate your senses.
Pumpkin Marshmallow – Sticky, sweet marshmallow spooned onto fresh-baked pumpkin and wrapped in a graham cracker crust.
Pumpkin Roll – Creamy pumpkin pie filling, surrounded with yellow cake, pecans, butter and spice.
Silver Bells – Minty candy canes dance over warm and welcoming winter pear, all enveloped in a velvety blanket of caramel and vanilla sugar.
Snowberry – A luscious blend of loganberry, strawberry, peppermint, and zesty cinnamon.
Titanium – The clean, earthy smell of the forest after rain — aromatic herbs and cool cedar wood, with lustrous silver birch.
Vanilla Cream – French vanilla with a touch of coconut milk.
Whiteout – Exhilarating blast of cool peppermint and sweet, golden apple, over frosty winter pine.
To see all the Scentsy Family Discontinued Warmers List 2013 click HERE.
Stock up on your favorites while they are still available.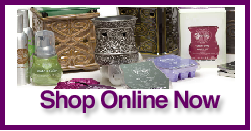 Latest posts by Barbara Volkema
(see all)