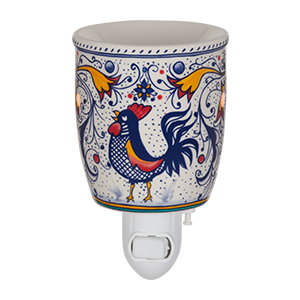 Our New Italian Rooster Nightlight  is made for a country kitchen, casual dining room or breakfast nook. Our Italian Rooster Nightlight brightens up any area it finds good for roosting. Bold colors and a sassy crowing star smack in the middle make this an irresistible choice for a household that celebrates assertive personalities and decor.
$20 – 3.5″ tall – 15w

---
Italian Rooster Nightlight
A beautiful symbol of centuries-old craftsmanship, this little gallo was designed to pay homage to intricately hand-painted Italian pottery.
By adding a lively cube or two of one of our Scentsy Fragrances will get your day off to a brilliant start.
---
I am always available to chat on Facebook!  I would love to chat with you, send me a friend request at https://www.facebook.com/barbara.volkema and I'll respond right away.
---
Thank You  for Your Love & Support. My Home-Based Business is a Success because of YOU!!!
Barbara & Family XOXO



Your #1 source for the latest Scentsy news and reviews. Shop for our latest products and have them delivered right to your door. Scent Delivered!
⭐ BUY ⭐ HOST ⭐ JOIN OUR TEAM ⭐ FUNDRAISERS ⭐


Latest posts by Barbara Volkema (see all)